Low Band Systems HF Transmit Band Pass Filters are very high quality multi-stage devices designed to specifically limit the RF band pass to a single Amateur band. They eliminate image and harmonic RF interference issues for dedicated mono-band operations in multi-radio contesting environments. Required for use with transmit multiplexers, these passive filters provide the additional isolation needed to allow multiple transceivers to be operated on different bands simultaneously on the same antenna. Used individually on mono-band radio and antenna combinations, these filters provide the isolation required in multi-radio contest stations.

Low Band Systems band pass filters are available for each of the ten HF Amateur Bands in 200, 500 and 1,500 watt models. Their unique aluminum enclosures, some with fans, are laser cut with "Perfo-Box" on the side and their power handling and band of operation are stenciled chassis cutouts. Their permanent demarcation allows immediate identification, preventing any future trouble with faded or missing printed labels.

Supplied only with standard UHF Female/SO-239 connectors, these HF Transmit Band Pass Filters achieve excellent of out-of-band suppression that virtually eliminates out of band noise and interfering signals.
Newest 1500DX series of filters provides best on the market next (really adjacent, WARC including) band attenuation.
They are designed to provide a sharp roll off just outside each Amateur band; just below 3.5 MHz and just above 4.0 MHz for the 80 meter filter for example. Low Band Systems filters are the first choice of major multi-multi contest stations around the world! They provide the clear benefit of a dramatically lower noise floor for enhanced single-band weak signal reception desired for elite contest and Field Day operations.

Low Band Systems Band Pass Filters are used in conjunction with their multiplexers, also known as multi-band transmit combiners. Low Band Systems Diplexers, Triplexers, Quadplexers and Pentaplexers, provide good levels of isolation between band ports, but band pass filters are also needed for multi- transmitter operation. This is because the multiplexer's main purpose is to balance the impedances for the multiple-transceiver/single multi-band antenna stations. They provide UHF Female/SO-239 connections for multiple 50-ohm transceivers to be connected to a single 50-ohm feedline.

So, band pass filters are REQUIRED for each multiplexer band input to provide the additional isolation required to allow multiple transceiver setups to work. The transceivers for each band are connected to their associated band pass filter, and then to the multiplex device such as a triplexer, which is connected to a tri-band beam, for example. All transceivers can operate simultaneously with up to 80 dB of isolation, unhindered by the signals from the other connected radios operating on the other bands on the same antenna!
Typical specifications:
Bands, Mhz: 1.8-3.5-7-10-14-18-21-24-28
Impedance: 50 Ohm
Maximum ICAS power: 1500 W
VSWR: ≤1: 1,2
Cooling fans (option): 2 x 12VDC, 2200RPM, 29.9CFM, Phoenix pluggable connector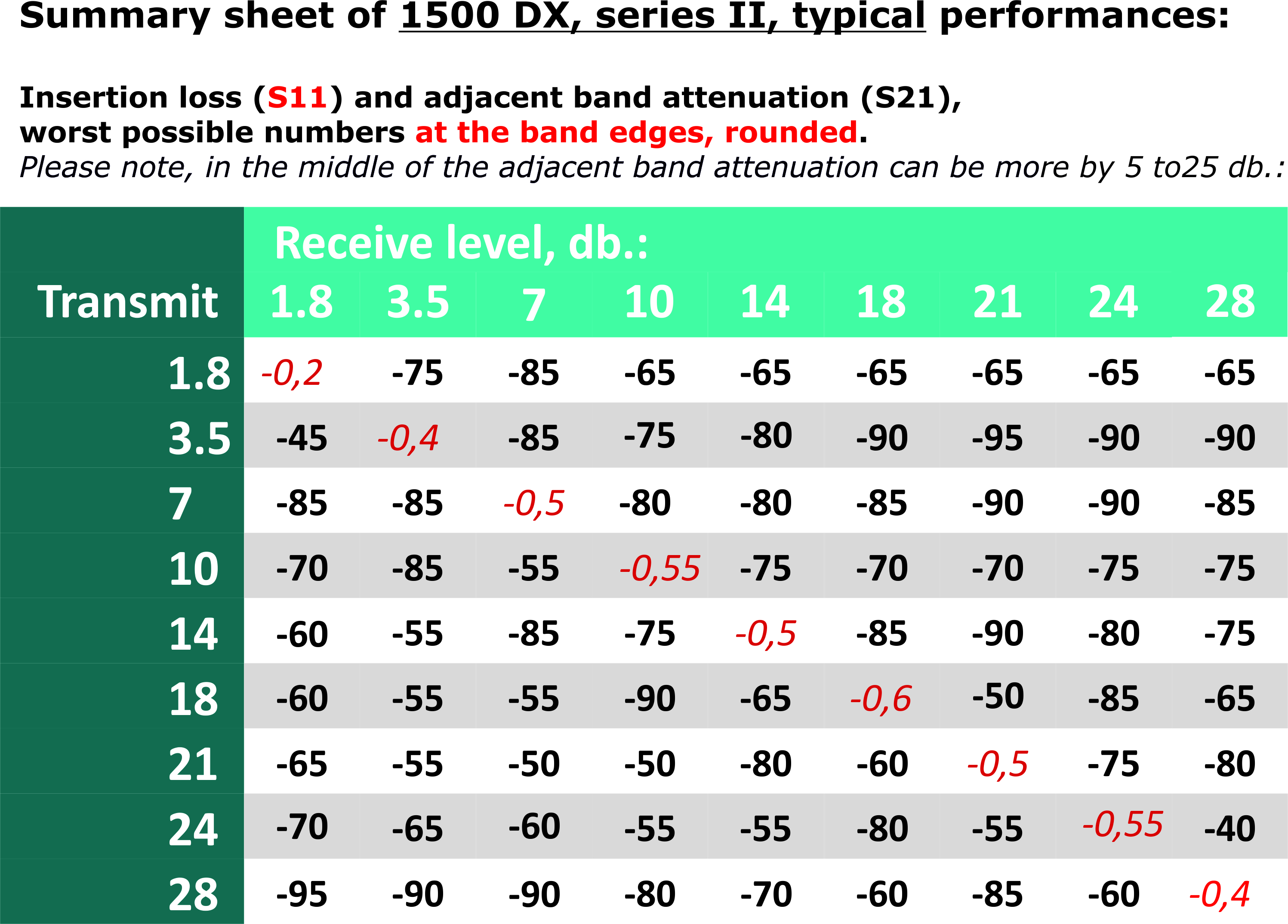 DX pedition to South Orkney Islands, 2020 with our filters 1500DX: